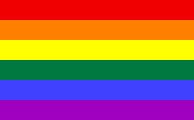 We are a LGBTQIA+ Welcoming Congregation!
Visit the UUA Welcoming Congregation Page for more information on Welcoming Congregations. There is a Monthly Welcoming Congregation Bulletin.
On June 1st, 2008, the congregation of Pilgrim House Unitarian Universalist Fellowship voted unanimously to identify as a Welcoming Congregation. The text of the congregational resolution reads:
Whereas our activities of the past three years have begun to develop our awareness and our capacity to follow through with the aspiration to become a welcoming congregation;
And, whereas Pilgrim House aspires to be a fellowship that welcomes and supports members, friends, and visitors who are gay, lesbian, bisexual, or transgender;
And, whereas we intend to fulfill to the best of our ability the commitments outlined in the Welcoming Congregations program detailed by the Unitarian Universalist Association;
Therefore, we declare ourselves to be a Welcoming Congregation.
We have been designated as a Welcoming Congregation by the national Unitarian Universalist Association, and that designation was renewed in the summer of 2017.
Pride Parade
More photos from the 2008 Parade!
| | |
| --- | --- |
| Pilgrim House marches in the 2007 Gay Pride Parade | Assembling for the 2008 Parade |