An intergenerational gathering of members, friends and guests, with food and music, that promotes shared fun and fellowship. Usually held late October or early November.
Set a date and time, typically a Saturday evening, with member and musician Ken Steffenson. Ken arranges for additional musicians and a dance caller. Ken donates his time; and Pilgrim House has been providing $200 to Ken for the additional persons.
In the past, we've held the event in conjunction with the Youth Group's haunted basement. This has been a successful shared event.
Dance is held in the meeting room, so pre-event preparation includes stacking all the chairs around the edge of the room, but leaving ample spaces open on the benches for sitting-around. Fall decorations optional.
A potluck meal begins the evening, usually set for 6:00 p.m. Sample sign-up sheet templates are available for food, beverage, set-up and clean-up. The musicians and dance caller are encouraged to join us for the meal.
The dance starts about 7:30 and runs until about 9:00. Volunteers are needed to re-set the meeting room at the end of the evening.
Templates for flyers and postcards to promote the event are available. Announcements on Sunday mornings and newsletter articles are also used for promotion.
There's no charge, but we've been suggesting a donation tto the foodshelf.
Harvest Fest 2013
Square Dance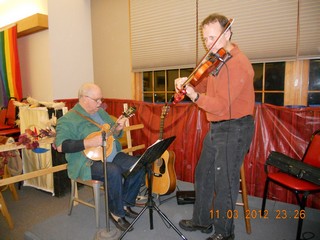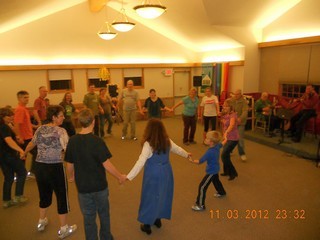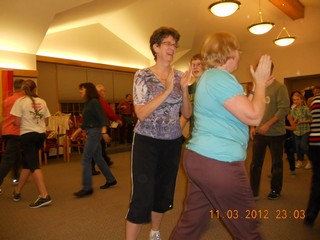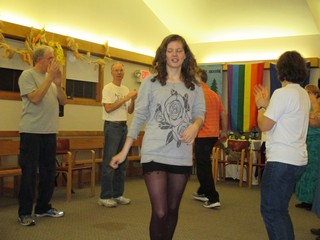 Haunted House Victim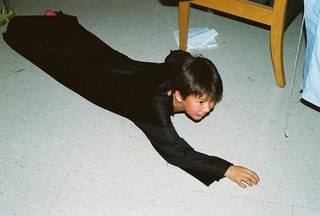 Harvest Fest 2012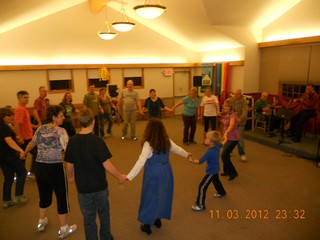 Suggested donation to cover expenses: $10/adult, $5 children under 8 - 15, children 7 and under free